This article discusses how a member user can troubleshoot logging into a membership portal powered by NPressive.
Troubleshooting FAQs
Where do I log in?
What are my login credentials?
Your login credentials are unique to your NPressive portal instance. It consists of a username, which is your email, and requires a strong password to secure your information.
I don't know (or forgot) my password.
Visit our forgot password tutorial for further instructions.
When will I receive my password reset email?
Password resets are delivered via email immediately upon request; you should check your SPAM folder in the event you don't see it within 60 seconds in your inbox. Search for "Reset Password Notification" as the subject line.
I never receive my password reset email.
On a rare occassion, email providers may block the delivery of this email. If you never receive or can't find the password reset email, you may try sending a one-time passcode to your mobile phone. This feature requires that your profile has your mobile phone number associated with it.
Select Forgot Password.

Select Login with mobile phone number instead.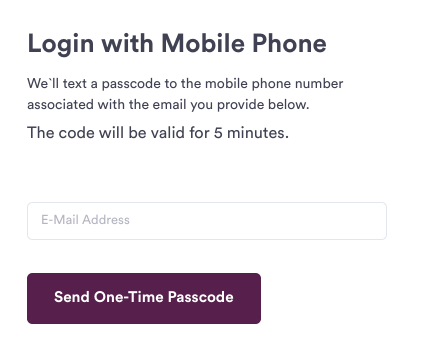 Help -- none of these steps work for me!
Your portal instance admin(s) is fully empowered to help members like you troubleshoot further, including:
sharing the portal instance URL with you

looking up your username

setting/resetting your password

setting a mobile number for the one-time passcode delivery